The 2018 Shuswap Music Festival will run from Monday, April 16 to Friday, April 27. Strings and Senior Piano sessions will be held during the first week of the Festival with Junior Piano and Vocal sessions during the second week. Band will be held on Thursday and Friday, April 19 & 20th. The Gala concert and awards presentation will be held at Nexus, First United Church, on April 27th.
For the 2018 Festival, Grade 10 Strings has been added to the Strings Discipline. Registration online opens December 1st 2017 and closes January 31, 2018.
The success of the Festival depends upon the patronage of the three Rotary Clubs of Salmon Arm, private donors, the sponsorship of businesses and organizations, and the hard work of many volunteers. The Society is grateful to all those who contribute. We need your support!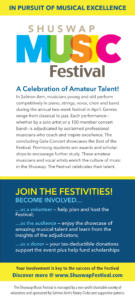 Schedule by Discipline:
Regular Sessions: AM 9 – Noon, PM 1 – 4, Evening 6 – 9
Band : postponed for the 2019 Festival
Strings : April 23 – 25, 2019
St. Andrews Presbyterian Church, 1981 – 9th Ave. NE, Salmon Arm, BC
Senior Piano : April 23 – 26, 2019
Nexus at First United Church, 450 Okanagan Ave. SE, Salmon Arm, BC
Piano Ensembles : TBA
Nexus at First United Church, 450 Okanagan Ave. SE, Salmon Arm, BC
Junior Piano : April 29 – 30, 2019
Nexus at First United Church, 450 Okanagan Ave. SE, Salmon Arm, BC
 
Vocal : April 29 – 30, 2019
St. Andrews Presbyterian Church, 1981 – 9th Ave. NE, Salmon Arm, BC
Choir : TBA
Nexus at First United Church, 450 Okanagan Ave. SE, Salmon Arm, BC