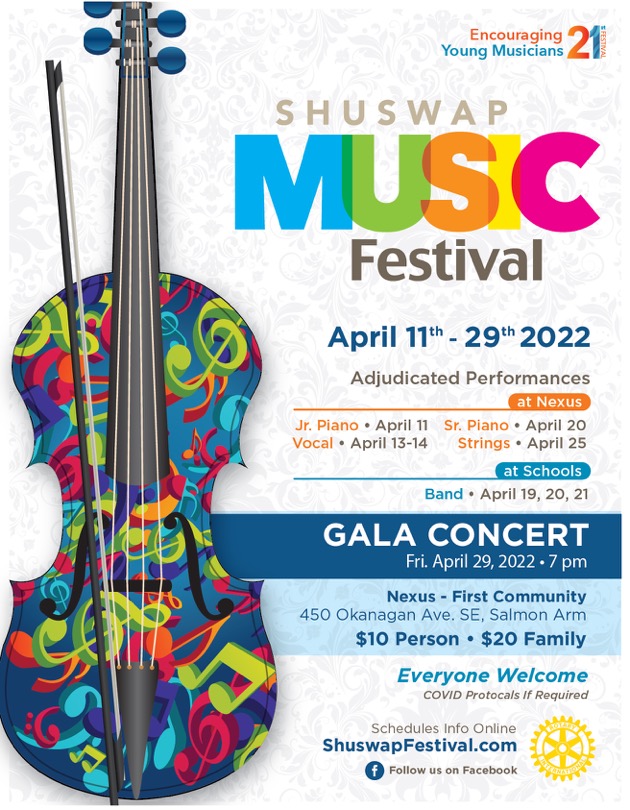 A pandemic raises many challenges to hosting a festival. The sudden arrival of Covid-19 forced the Board of Directors to cancel the 2020 Shuswap Music Festival. It would have been our 20th Anniversary Festival. In 2021, the festival was successfully held in virtual format. To meet Covid-19 health requirements, it was a much smaller festival with fewer disciplines and was conducted online through YouTube video uploads of performances. Adjudications were delivered via emails to the candidates. With restrictions for health protocols now being reduced, the Directors are keen to host a 2022 festival that is live and in person. Festivals support our mandate to encourage the development of young musicians and foster a culture of music in the Shuswap.
At the annual two-week festival young musicians are encouraged to pursue excellence. They are provided performance opportunities, receive valuable feedback from professional musicians, learn from each other, and are celebrated and awarded for their talent.
Among the many regional participants over the past 20 years are those who have chosen music as their career. Some have become professional musicians, teachers or accomplished performing artists. The Shuswap Music Festival takes pride in being a part of their music journey.
The success of the Festival depends upon the patronage of the three Rotary Clubs of Salmon Arm, private donors, the sponsorship of businesses and organizations, and the hard work of many volunteers. The Society is grateful to all those who contribute. We need your support!