Fostering Shuswap Musicians
*The purpose of the Shuswap Music Festival is to encourage, support, challenge and celebrate music students and amateur musicians by providing opportunities for learning and performing on the road to musical excellence.
In addition, the Festival provides the opportunity for constructive and professional evaluations of musical performances.
The Festival is produced by a not-for-profit society managed by a volunteer board of directors.
Shuswap Music Festival April 2022
"Live and In Person"
The Pandemic has continued to shape our festival but with ingenuity and adherence to health requirements, the Board of Directors will hosted a festival April 11-29, 2022.
Disciplines offered were: Junior and Senior Piano, Strings, Vocal and School Bands. Choral was excluded. Candidates residing within the area from Chase to Revelstoke and the Shuswap North Shore to and including Vernon were eligible to enter the Salmon Arm festival. Registration online opened December 1, 2021 and closed January 31, 2022. Covid-19 protocols in place at the time of registration and later for the Festival were followed
Gala Concert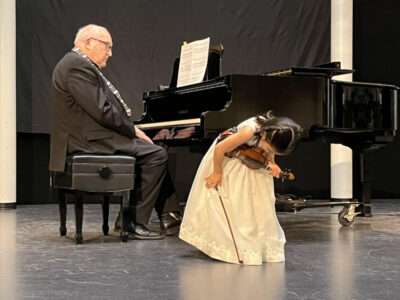 Grand opening! Five year old Georgina Vrana and her accompanist, Tom Brighouse, perform the opening number at the Shuswap Music Festival Gala, April 29 at Nexus.

THANK YOU,  Volunteers!
 You are essential to the Festival. Please consider volunteering for the  April 2023  Festival.
Thank You to the donors and sponsors who continue to support the Festival, especially during the Pandemic.
SPONSORED BY: