The Shuswap Music Festival Society is elated over the arrival of its latest acquisition–a 52 Inch Upright Kawai piano. The full-size upright has the same size string board as a grand piano. Purchased by the Society with a generous donation from the Rotary Club of Salmon Arm- Shuswap, known as the "Evening" club, the piano arrived late January, in plenty of time for the 2023 Festival in April. Jane Hein, a Festival Society board member, was instrumental in arranging the purchase and delivery of the piano from a private owner in Penticton. "We are so lucky", exclaims Hein, "The piano is in immaculate condition! it's a very high-end piano." The purchase of the piano actually generates a significant cost-saving for the Festival Society by eliminating the recurring annual piano rental and moving expenses. "Within two years we will recover the cost of the piano."added Hein.
The new home for the piano is First United Church. With the piano at the Nexus venue, Festival organizers are assured of offering the full-range of piano categories including duets and other two-piano entries at the Shuswap Music Festival. The Upright Kawai has a smaller footprint than the Church's Grand Piano, making it an ideal option for accompaniments to violin, cello, vocal, musical theatre, and choirs. The Board of Directors for the Festival is grateful to both the Shuswap Rotary Club and the First United Church for their generosity and support.
The 2023 Shuswap Music Festival runs from April 11 to 29. This is the first year since 2019, due to Covid-19 restrictions, that the Festival is able to include the full range of disciplines–Piano, Strings, Vocal, Choral, and Band. Registration for entries closed January 31 and plans are underway for the April event. The Festival culminates with a Gala concert showcasing the Best of the Festival. Everyone is invited to attend. This community festival is only possible through the sponsorship of the three Rotary Clubs of Salmon Arm and the support provided by the generous donations and grants of the Shuswap Community Foundation, City of Salmon Arm, SASCU, private foundations, local businesses, and private donors. Community volunteers are essential to assist with hosting the Festival. To learn more and to become involved, check the website at www.ShuswapFestival.com.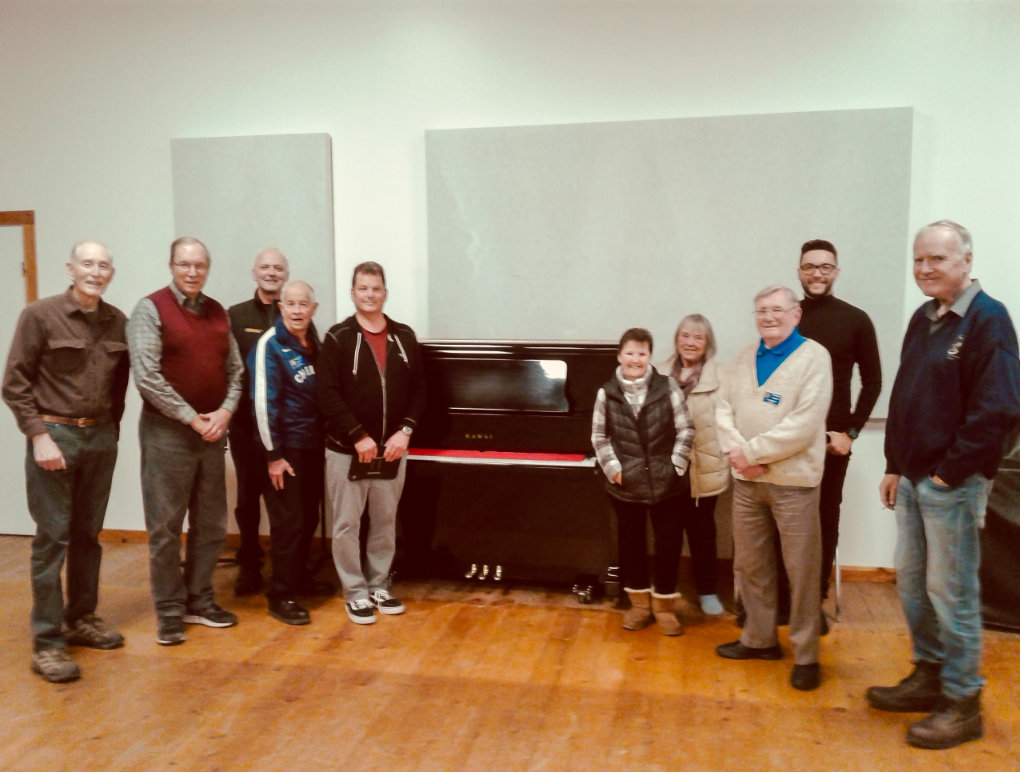 Rotarians from the Shuswap Rotary Club of Salmon Arm gather to admire the newly arrived Upright Kawai piano at the First United Church. The club donated the funds for the purchase of the piano to the Shuswap Music Festival Society. Housed at the First United Church, the piano will be used for Festival sessions at Nexus.