The Shuswap Music Festival concluded Friday April 29 with a Gala Concert at the First United Church. Performers, selected by the Festival adjudicators, entertained a captive audience. "Keep playing and keep sharing your music" was a recurring theme throughout the two-week Festival.
In addition to celebrating the talent of amateur Shuswap musicians, the evening was an opportunity to acknowledge the hard work of our youth with the presentation of well-earned awards and scholarships worth a total of $4795.00.
Earlier in the Festival, Band adjudicator Peter Stigings applauded music teacher Brian Pratt-Johnson for his outstanding work with the Jackson School Concert Band. Stigings encouraged the students. "Take music each year in high school," he advocated, "and keep on playing and sharing your music long after high school graduation and into your adult lives." His words were echoed by many others during the Festival. "You are very fortunate," added Stigings, "that your school district continues to fund a music program."
Some "graduates" of the Festival continue to follow a music path. This year the Blair Borden Memorial Scholarship, for pursuit of a career in music, was awarded to three contestants: Jenae VanGameren (voice), Emily Wark and Andrew Stoney (piano). Reid Fowler presented The Mary Fowler Memorial Scholarship for 'Excellence in Vocal Performance' to Paige Tower.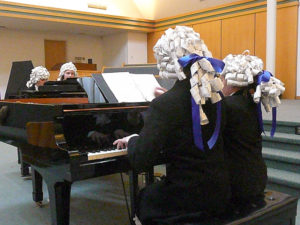 A very talented 13-year-old musician—Holly McCallum—took the Gala audience by surprise. Holly plays cello and piano and won "Outstanding Senior" for both instruments! She entertained the crowd playing Chopin's Nocturne in C Sharp Minor on cello; a piano solo; a piano duet with Jessica Neudorf; and joined three other pianists dressed in the finest Mozart costumes for the finale ensemble performance 'two pianos~8 hands'. Holly received six awards at the Gala: two in Strings and four in Piano.
The Rotary Clubs' "Best of the Festival" awards in each category went to the following:  Paige Tower for Voice presented by Warne Lynd, President of Salmon Arm Rotary Club; Libby Wyse for Strings presented by Fred Goodman, Director of Shuswap Rotary Club; and Andrew Stoney for Piano presented by Peter Du Toit, Director of Rotary Club of Salmon Arm, Daybreak.
Dr. Melany Dyer of the Shuswap Community Foundation announced the eight candidates recommended to advance to the Performing Arts BC Provincial Festival. They are: Stephen Moore (Junior A Piano); Grace Neudorf (Intermediate Piano); Andrew Stoney (Senior Piano); Anna Konrad (Junior A Strings); Georgia Nitchie (Jr. Classical Voice); Paige Tower (Intermediate Classical Voice); Jenae VanGameren (Senior Classical Voice); and Destinee Trentalance (Jr. Musical Theatre). In addition to these eight candidates, four other Shuswap Festival contestants, who were recommended at other festivals to attend the 2016 Provincial Festival, will join them. They are: Aria Izik-Dzurko (Piano); Libby Wyse (Strings); Jessica Neudorf (Piano); and Holly McCallum (Strings and Piano). This is an outstanding contingent to represent the Shuswap at the Provincial Festival in late May.
The Festival adjudicators this year were Peter Stigings, Band; Jane Hayes, Senior Piano; Yvette Rowledge, Jr. Piano; Don James, Vocal and Choir; and Joel Stobbe, Strings. They chose the recipients for all awards and scholarships including the following:
VOCAL AND CHOIR AWARDS:
Outstanding Junior Classical:  Evje Knutson
Outstanding Intermediate Classical:  Destinee Trentalance
Outstanding Senior Classical:  Jenae VanGameren
Junior Musical Theatre:  Josiah Trentalance
Intermediate Musical Theatre:  Destinee Trentalance
Best Junior Vocal Ensemble:  Siera & Saige Dubyna
Best Intermediate Vocal Ensemble:  Destinee & Josiah Trentalance
Best Adult Choir:  Shuswap Men's Chorus
BAND AWARDS:  Presented by June Stewart, SASCU
Best Elementary/Middle School Band:  Shuswap Middle School Gr 8 Concert Band
Best Secondary School Concert Band:  Jackson Concert Band
Best Jazz Band:  Sullivan Jazz Band
STRINGS AWARDS:
BCRMTA Shuswap Branch Awards ~ Presented by President, Jane Hein to Robyn de Wet and Holly McCallum
Outstanding Junior:  Anya Massa
Outstanding Intermediate/Senior:  Holly McCallum
Intermediate/Senior String Ensemble:  Anna & Simone Konrad
Concert Class:  Libby Wyse
Graded Strings Scholarships
Pre-Grade 1:  Jack McChesney
Grade 1:  Kelsey Phillips
Grade 2:  Autumn Sunderland
Grade 3:  Aidan Chan
Grade 5:  Isabel Hladych
Grade 6:  Simone Konrad
Grade 7:  Robyn de Wet
Grade 8:  Anna Konrad
Grade 9:  Anastasia Martens
PIANO AWARDS:
BCRMTA Shuswap Branch Awards ~ Presented by President, Jane Hein
Junior: Jacob Huntington / Intermediate:  Hilary Vukadinovic
Senior: Teslyn Bates / Advanced Senior:  Aria Izik-Dzurko
Outstanding Junior:  Jonathan Breugem
Outstanding Intermediate:  Ashley Nicks
Outstanding Senior:  Holly McCallum
Junior Duet:  Matthew Neudorf & Jonathan Breugem
Senior Duet/Trio/Quartet (Gr 7&8):  Robyn de Wet & Eva Mosher
Advanced Sr. Duet/Trio/Quartet (Gr 9-ARCT):  Jessica Neudorf & Holly McCallum
Junior/Intermediate Concert Class:  Micah Lichti
Piano Ensembles Awards Presented by Patty Munro, Salmar Community Association
2 Pianos 4 or 6 Hands Ensemble:  Jessica Neudorf & Holly McCallum
2 Piano 8 Hands Ensemble:  Holly McCallum, Robyn de Wet, Eva Mosher, Jessica Neudorf
Graded Piano Scholarships
Pre-Grade 1:  Jace Mortenson
Grade 1:  Mira Shaw
Grade 2:  Calia Mortenson
Grade 3:  Matthew Neudorf
Grade 4:  Jacob Huntington
Grade 5:  Zachary Naish
Grade 6:  Aleta Lu
Grade 7:  Julianne Moore
Grade 8:  Benjamin Sui
Grade 9:  Stephen Moore
Grade 10:  Aria Izik-Dzurko
ARCT:  Grace Neudorf
The Festival and these awards are only possible through the generous donations and support of the community. Volunteers make it all happen. At the Gala, the Directors of the Shuswap Music Festival Society were pleased to honour Past President and founding member, Jeff den Biesen, for his dedicated service and more than a decade of commitment to the Festival as President.  He helped to build a legacy for the community. The Society thanks all the Rotarians and community members for their many volunteer hours; the generosity of the sponsors and donors; and a special thank you to Rod Charlebois, the Master of Ceremony for the Gala Concert.
Thank You and Congratulations to all the musicians and vocalists, young and old, who participated in the Festival.
Submitted by Sue Wolff
Shuswap Music Festival Society